Mono-ethylene glycol (MEG)
Mono-ethylene glycol (MEG) is used in the production of polyester fibres, polyethylene terephthalate (PET), coolants in vehicle antifreeze and resins. If inhaled, MEG mist may cause a mild burning sensation in the nose, throat and lungs.
Therefore it is important to take steps to prevent MEG leakage creating a vapor or mist.
Safety shields should be installed on pipework flanges to diffuse the leak and prevent mist formation.
For MEG mist applications we recommend the following material;-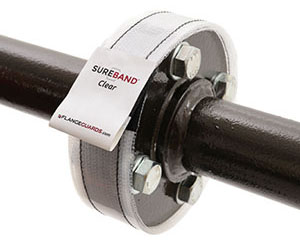 Recommended

All PTFE shield with Pressure Diffusion Technology (PDT) incorporating multi-layered PTFE mesh. No pull-cords, quick connection. Litmus indicator patch included