SURE

BAND

Steel Shields
Our SUREBAND STEEL shield uses only the highest quality materials. This simple design outlasts all other shield types/materials in our in-house pressure testing.
Most important is the internal multi-layered steel mesh, which effectively diffuses pressure releases – thus preventing spray and mist formation.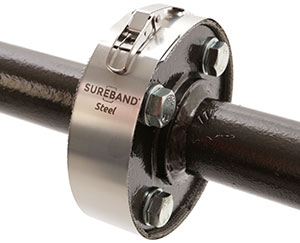 More than any other shield in our range, beware of cheap copies without adequate mesh or any form of testing. Our 316 st/st guard is well suited to Steam, Fuel oil, Lube oil, Diesel. All our designs are tested on our hydrostatic pressure test facility, test certificates are available on request.
1. Multi-layered steel mesh
Critical for safety, to avoid spray and unwanted mist formation (which is a consequence of ill-fitting shields with no mesh). The mesh effectively diffuses a pressure release, creating a safe vertical drip.
2. Quick-connection latch
Provides quick and easy fitting & removal without any special tools. This is very useful for harsh environments where gloves, chem-suits and other conditions make installation difficult
3. All 316 stainless steel as standard
No weak points, 3.1b material certificates available on request.
We also manufacture a range of flexible thermal insulation covers.
Buy FLANGE
GUARDS

online - Choose joint type