Teflon (PTFE) Shields
The PTFE guard is manufactured from three layers of woven Teflon coated fibreglass fabric with a central Teflon scrim for strength. This material is inherently resistant to Ultra-Violet radiation & is ideally suited to concentrated acid & caustic duty as well Fuel / Lube oil.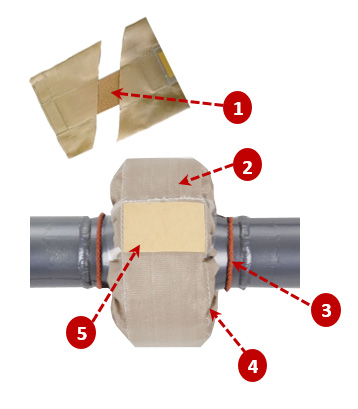 All our designs are tested on our hydrostatic pressure test facility, test certificates are available on request. Beware of shields that may look the same as ours, some use inferior materials. These are generally cheap copies, offering poor protection – indeed, ill-fitting shields can CAUSE lateral spray and mist formation.
1. Central Thick Scrim material
Added safety. Without this, a high pressure release can split the outer shield material, creating spray and mist. Click here to see how our safety shields work
2. Permeable Teflon material
Ensures leaking liquid is drawn away from the flange, thus avoiding corrosion (especially in acid duty). Some "non-permeable" shield designs can hold corrosive liquids against the flange.
3. 100% Teflon Pull cord
Provides a strong, re-usable tie down.
4. Teflon Thread
Better resistance against corrosive atmospheres. Other shields use cotton threads which disintegrate quickly.
5. Litmus paper indicator patch
Quick, visual indication of a leak of acid or base
Buy FLANGE
GUARDS

online - Choose joint type