SURE

BAND

Marine Shields
The smart alternative to single use ANTI-SPLASH tape. SUREBAND-Marine is designed specifically for SOLAS oil fuel / lube oil / other flammable oil applications.
This is specified as follows:-
SOLAS Consolidated Edition 2020, Chapter II-2, Part B, Regulation 4;
2.2.5.3 Oil fuel lines / Lubricating oil / Other flammable oils "shall be screened or otherwise suitably protected to avoid spray of oil leakage onto the sources of ignition"
Comprising outer ETFE band and inner multi-layered mesh, SUREBAND-Marine's PDT technology effectively diffuses the pressure from flange leaks, resulting in safe, controlled release.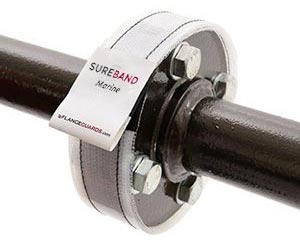 PDT Pressure Diffusion Technology
Multi-layered polymer mesh specially formulated to diffuse pressure release, preventing spray and mist formation.
Quick-Connection
Quick fit/removal in seconds. No cutting, adhesives/sticking or tools required
Re-Usable
Unlike single use ANTI-SPLASH tape, SUREBAND Marine is re-usable with very low whole lifetime cost. This results in considerable savings for the operational lifetime of the vessel
Multi-Size
SUREBAND Marine has 3 shield sizes covering 139 different flange sizes. This removes requirement for surveys and provides the shipyard and ongoing operator with considerable flexibility. For non-standard sizes/shapes SUREBAND Marine is also available in a 10m long roll.
---
Cost comparison between SUREBAND Marine and ANTI-SPLASH tape
Anti-Splash Tape
ANTI-SPLASH tape is a single-use product. During pipeline maintenance, it must be peeled or cut off, with new tape applied afterwards. Over the lifetime of the vessel, this becomes increasingly expensive with tape being sourced from Ship Chandlers around the world.
The cost per flange for ANTI-SPLASH tape depends on several factors, not least the manufacturer used. Most importantly, is the extent to which the tape is installed. Manufacturer's instructions all clearly state that flanges most be completed wrapped, including a section of the pipe either side:-

When installed correctly, ANTI-SPLASH tape can be more expensive per-flange than SUREBAND-Marine
Sureband Marine
SUREBAND Marine is fitted and removed in seconds (with no tools).
This means it can be re-used after pipeline maintenance and therefore offers considerable cost saving.
Further, with only 3 shield sizes, it is easily accessible.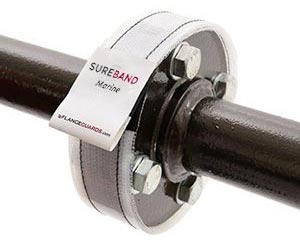 ---
Watch our quick fit demonstration video